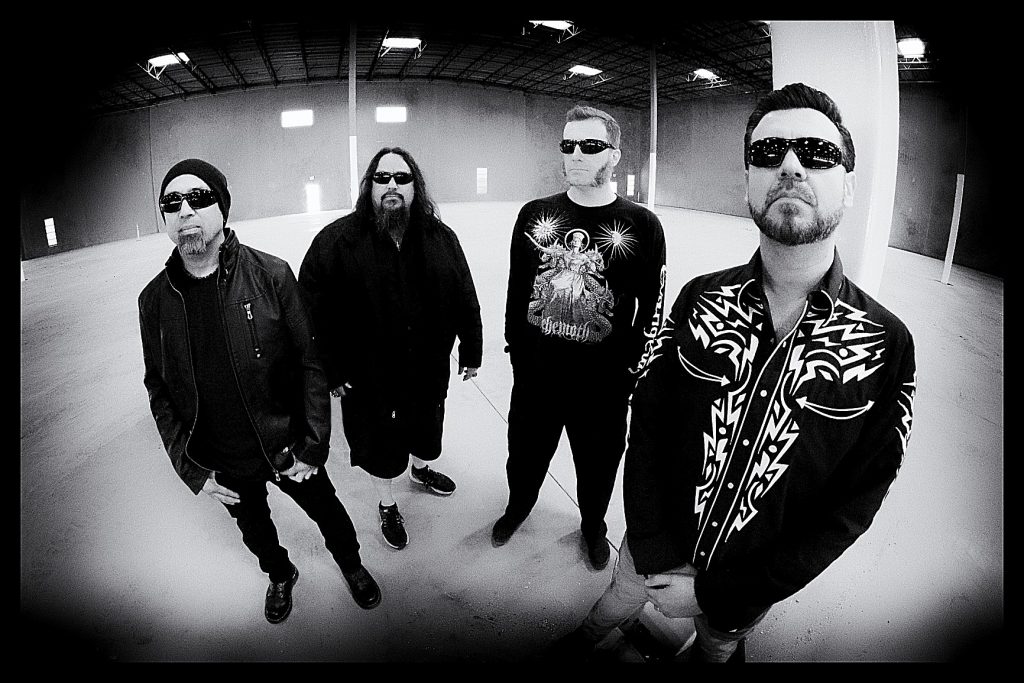 HATEFX portrays metal that features a distinctive factorization of elements, a mix of solid grooves, versatile sonic textures, and sequences which are linked together using effective songwriting is the offering from the hard-hitting metal band from Fresno, CA.
The band has shared national act bills with Static X, Machine Head, Soulfly, Exodus, In This Moment, Five Finger Death Punch, Drowning Pool, Helmet, Kittie, Prong, Bury Your Dead, Dragonlord, Otep, Ankla, Adema, among others, playing already 2 times in the Whisky a Go Go and rocking crowds of over 1,300 souls!
Following the excellent response to their locally acclaimed first EP "Via Obscura" and their full length "The Holy Frail", both available through all major online stores (iTunes, Amazon, Rhapsody, Napster, etc.), the band has finished their third offering "Under Destruction" with its most powerful lineup to date featuring guest musicians from California, Europe, and South America. The band is currently searching for a distribution partner for the new material.
HateFX started with G (Ex-Dogma, Chile) and Dan (ex-The Council, Sacramento, CA), both highly recognized bands. Merging fan bases and working on a well rounded concept and streamlined tunefulness that is less present in the modern genre, the band has managed to attract more listeners that look beyond the typical metal hybrids. HateFX also understands the importance of live shows and developed an elaborated act that includes custom made stage banners, props, and impact lighting to achieve an effective ambience in enhancing their live performances.
H8FX's lead Guitarist, Glen Alvelais, is one of the original guitarists of the Bay Area thrash band FORBIDDEN, has recorded on the debut album "Forbidden Evil" and "Raw Evil, Live at Dynamo".  In 1992, Glen was recruited as the lead guitarist of TESTAMENT in replacing Alex Skolnick.  He also recorded on "Return to the Apocalyptic City" and "Demonic".  Frontman G is the co-founder of DOGMA, one of the most recognized Chilean metal bands, releasing 6 videos that had regular airplay on MTV LA, receiving album of the month recognition by Headbangers Ball MTVLA, and contracted a major label distro with EMI and Sony Music generating significant sales for the genre. Dan (ex-The Council, Sacramento, CA) having substantial experience and recognition in the circuit has shared the stage with Fear Factory and Slayer.  In 2018 HateFX welcomes new bassist Terry Goss, a bass player in the Bay Area scene known for his work with Scorched-Earth Policy, LD/50, 401K and the Mica Lee Williams Band. Terry brings the subsonic waves to the HateFX powerhouse completing the lineup of the band ready to take the live show to the next level with props control and live sensory devices: HateFX comes to life in the live circuit.
HATEFX's high-intensity framework of sonic textures and enrapturing musical experience cannot be overlooked. The material has been described by specialized rock press to feature accessible heavy riffs executed with a surgeon's precision fusing dynamic sonic layers and the band effectively reproducing these arrangements through their live performances with razor sharp accuracy.
The band continues to build upon a solid following and expand with growing social media numbers, strategically planning live appearances, ready with renewed energy and storming a number of important events this year.